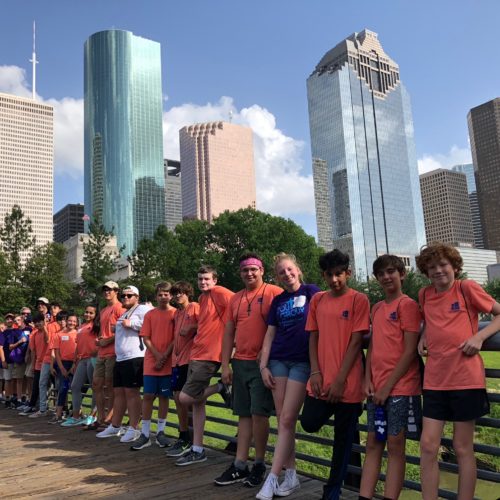 At the Cathedral Urban Service Experience, we provide everything your group needs to have a meaningful mission trip while allowing you the flexibility to design your trip to meet your needs:
DURING THE NATIONAL PANDEMIC WE WILL HAVE NO IN-PERSON CUSE UNTIL FURTHER NOTICE: Please join our Virtual CUSE!
Housing: We can house up to thirty youth and adults in our secure setting. You will sleep on the twin sleeping rolls. The Youth Center has restrooms and separate showers for men and women, a kitchen, a large meeting room with full electronic equipment, and everything you need for a comfortable stay.  Parking is free to groups in the Cathedral garage across the street.
Meals: We provide three meals each day. Groups prepare their breakfast in our kitchen. Lunch can be eaten either at the Youth Center between site visits or "brown bag"-style at a work site. Dinner happens at a local ethnic restaurant in the downtown and midtown.
Transportation: CUSE participants travel to work sites on the Houston Metro Rail Line, bus, or by private car or van.  Licensed and insured adult leaders from the group will be responsible for driving the group's vehicles when necessary.
Interns: your hosts during your stay, three college-aged interns will be your guides to service and to the fun.
Planning: your trip will be planned with the personal assistance of the CUSE Director. Special events or sites where you desire to serve will be included in your itinerary whenever possible.