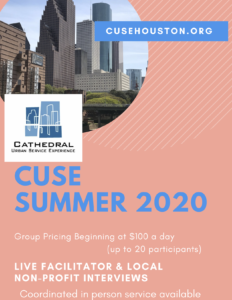 So what's included in the cost of a CUSE trip? Depending on the needs and constraints of your group, it varies. CUSE also offers simply a place to stay if needed.  We are here ALL 12 MONTHS! Whether you want to come for a weekend or week you are welcomed to come and serve the underserved in Houston. We work with your group to find the right service experience for your group. See options below:
CUSE Full Service Summer 2021: 
Packages:
8 Youth 2 Adults (Includes one intern)

2 Nights (Thursday till Saturday)
4 Nights (Sunday till Thursday)

16 Youth 4 Adults (Includes two interns)

2 Nights (Thursday till Saturday)
4 Nights (Sunday till Thursday)
Packages include all of the raw materials that your missions group needs to experience a wide variety of servant ministries in the city, including:
Intern to lead your group throughout the city
Secure housing close to several public transportation hubs
Three meals a day, including dinners at locally-owned ethnic restaurants
A full schedule of service opportunities designed to meet the unique needs and abilities of your team
A mix of fun activities out on the town
The evening program is up to you to help create a missional life together rather than simply one trip. We will bring you back to the Treehouse and leave you to programming that fits your needs. We do have ideas if you need them!
**If no packages work for your group please contact cuse@christchurchcathedral.org and visit options
Space Rental:
**2020 Pricing Options Coming Soon**    All Inquiries email cuse@christchurchcathedral.org 
Ideal for many college groups and other groups working on a limited budget, this package includes accommodations in our convenient downtown location which is close to service sites, public transportation, food, and fun, as well as an option for a $20 parking pass for 24-hour access to the Cathedral parking garage.  The spacious Ballard Youth Center (Treehouse) contains a kitchen with plenty of storage space, bathrooms, separate shower facilities, a large public room for gathering with all of your AV needs covered, and three classrooms for sleeping.  We also have twin-sized bed rolls available.
T-shirts:
CUSE shirts are available for purchase for $12 each, in advance of your trip.
Swag Bag:
This includes a CUSE shirt, water bottle, and a cinch backpack for $18.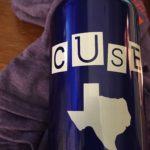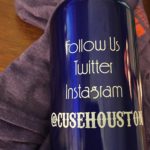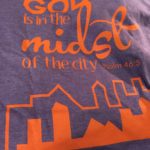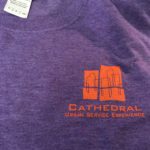 With questions, please contact Christy Orman at cuse@christchurchcathedral.org or 713.590.3313.