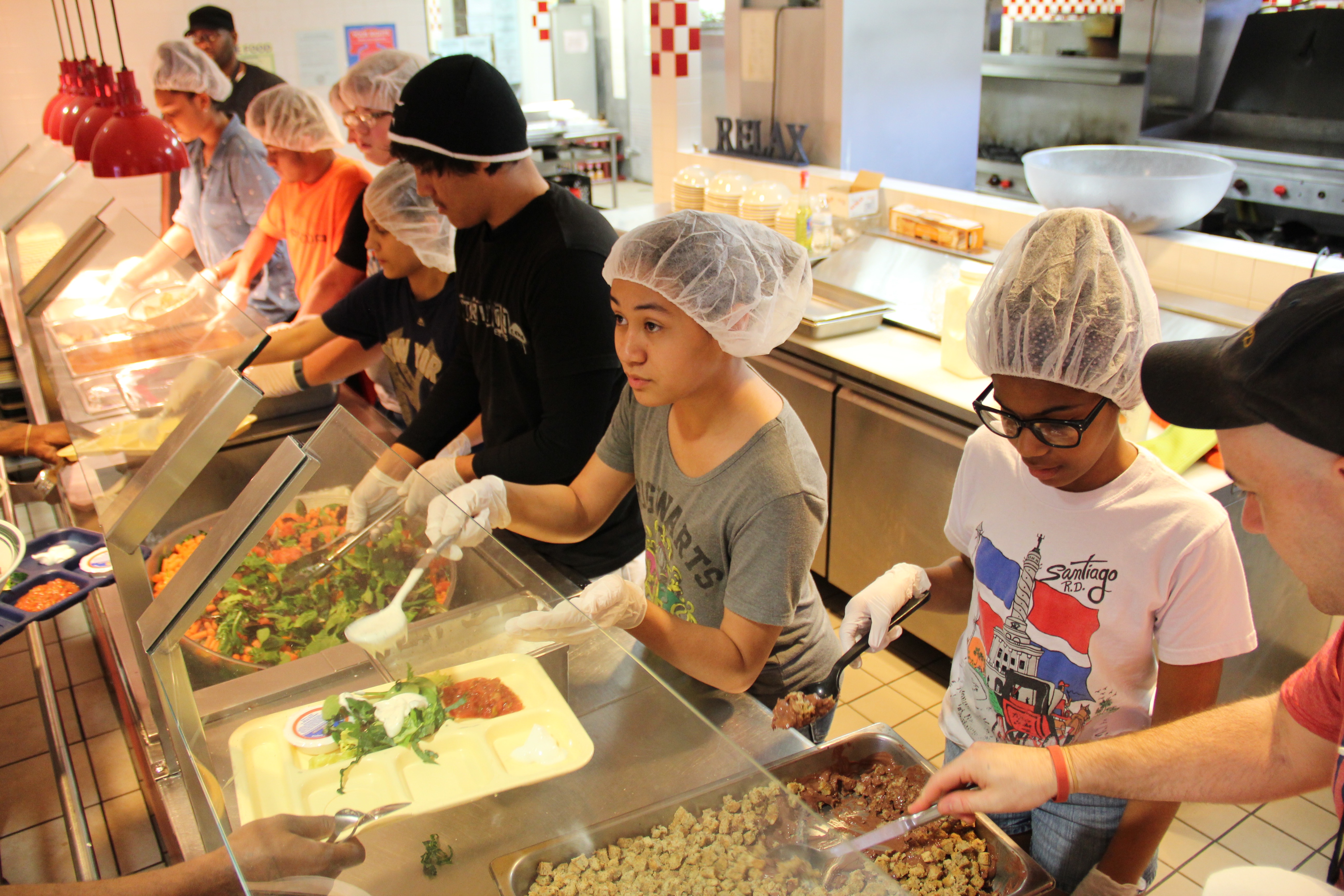 At CUSE we maintain relationships with a growing number of mission service sites. Here are some of the ones we have served. You can visit their websites for more information.
The Beacon As the central hub for all individuals visiting the John S. Dunn Outreach Center, we assist with registration and intake as well as an immediate assessment of each client's needs. A hot lunch, access to showers, and laundry services are available Thursdays through Mondays each week. Beacon Day Center's hours are 7 a.m. to 2 p.m.  For more information, go to www.beaconhomeless.org.
Young Professionals also find more information about how to join. https://www.beaconhomeless.org/young-professionals
Emergency Aid Coalition has been one of our service sites since the beginning of CUSE. At EAC, volunteers can sort clothing, stock the food pantry, prepare food baskets, and make sandwiches for distribution to clients at lunch. For more information, go to www.eachouston.org.
Houston Food Bank receives stores and distributes massive amounts of food for the hungry throughout the Houston Metropolitan Area. Our volunteers help this project by stocking shelves and organizing the inventory. Visit http://www.houstonfoodbank.org/.
New Hope Housing does an inspiring job of making it possible for people to get back on their feet and rebuild their lives. Our volunteers build relationships with the residents of New Hope by offering pizza and bingo parties. You can visit them at www.newhopehousing.com.
Star of Hope is a Christ-centered community dedicated to meeting the needs of homeless men, women, and their children. Positive life changes are encouraged through structured programs that focus on spiritual growth, education, employment, life management, and recovery from substance abuse. CUSE volunteers with snacks and goodnights, serving a snack, and spending time with residents at multiple shelters. To learn more, visit www.sohmission.org
Interfaith Ministries of Greater Houston Meals on Wheels for Greater Houston and Galveston County provides home-delivered meals to disabled adults and homebound clients over 60. The program also delivers weekend meals and a week's worth of breakfast to over 1,100 of our most frail and isolated clients. This nutritional support helps people stay independent and in their own homes. Volunteer Groups work together to bag pet food for our aniMeals on Wheels Program, assemble breakfast meals for our most in need Meals on Wheels clients, and assist staff in the warehouse to ensure that all 4,000+ meals get out on time.  Special projects and holiday opportunities are also available throughout the year.  All projects are subject to availability. https://www.imgh.org/meals-wheels-greater-houston/
Lord of the Streets Episcopal Church offers food, referral services, counseling, Bible study, and worship to the street people of Houston. CUSE volunteers may help serve a Sunday morning breakfast, or make sandwiches for lunch, or share in a Bible study. To learn more, visit www.lordofthestreets.org.
The Abundant Harvest Food Truck creates experiences around the table that feed the body, nourish the soul, and transform the community. They support and sponsor 26 monthly food pantries. Abundant Harvest serves 3 monthly community meals, in which we share over 450 meals. They also are continuing our Hurricane Harvey Relief efforts by serving meals to those affected as well as those volunteering to rebuild. To learn more, visit  www.harvesttruck.org
Medical Bridges turns donated, used, and surplus medical equipment into clinics for Third World countries. CUSE volunteers sort surgical instruments and other supplies to prepare them for shipping. You can learn more about this unusual and exciting service at www.medicalbridges.org.
Buffalo Bayou Partnership cares for the portion of Buffalo Bayou that runs through downtown Houston. Their conservation efforts ensure that the bayou is a welcoming habitat for native plants and wildlife while providing Houstonians a strip of wilderness running through the city. CUSE groups clean up trash and remove invasive plants. You can learn more at www.buffalobayou.org.
Houston Health Foundation provides funding to support public health projects beyond the normal scope and capacity of the City of Houston operations. CUSE volunteers will work at multiple urban farms around the city in coordination with wellness and the City of Houston.  CUSE volunteers assist in the distribution of multiple community markets and events for the community. Find out more at houstonhealthfoundation.org/home
Olivewood Cemetery is the oldest incorporated African American cemetery in Houston. For many years the cemetery was covered in a layer of overgrown vegetation and almost forgotten. Now, a dedicated group of volunteers is working to clear the years of overgrowth and tell the cemetery's historic story. Keeping the cemetery clean discourages vandalism, enriches the surrounding community, and shows respect for those who are buried at Olivewood. CUSE volunteers clear overgrown vegetation and maintain the already cleared portions of the cemetery. You can learn more about Olivewood at www.descendantsofolivewood.org.